Holiday Edition: 5 ways to enjoy tree services this season
Contributors: Megan Andre, Alison Cardinal, Ash Davidson, Brieanna Wallace, and Bob Underschultz
It's that time of year again and you know what December means…. decorations, family fun, and tasty drinks! Even though temperatures have dropped and you may be getting outside less fear not — AWES has compiled 5 ways you can appreciate tree services during your holiday festivities this season. 
1. Juniper Cranberry Cocktail
This recipe utilizes two ingredients that could be found in Alberta: juniper (Juniperus communis and Juniperus horizontalis) and cranberry (Viburnum edule). What better way to get you and your loved ones in the holiday spirits (…literally) than a cocktail that can be adapted to incorporate native species? It may be a bit late in the season to forage fresh cranberries at this point, but juniper "berries" persist into the cold months.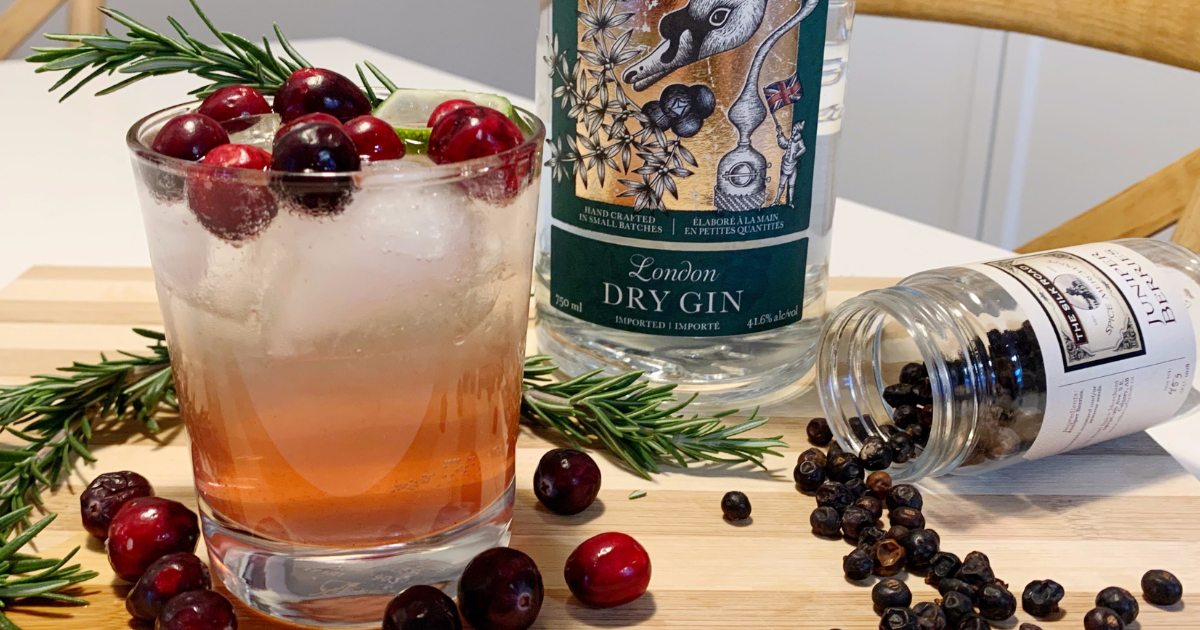 The tasty juniper cranberry cocktail.
Ingredients required:
2 tablespoons fresh cranberries, muddled
2 ounces gin
1/2 ounce juniper berry simple syrup
1/2 ounce freshly squeezed lime
4 ounces club soda
Ice
1 whole rosemary sprig, garnish
1 lime peel garnish,
Extra cranberries, garnish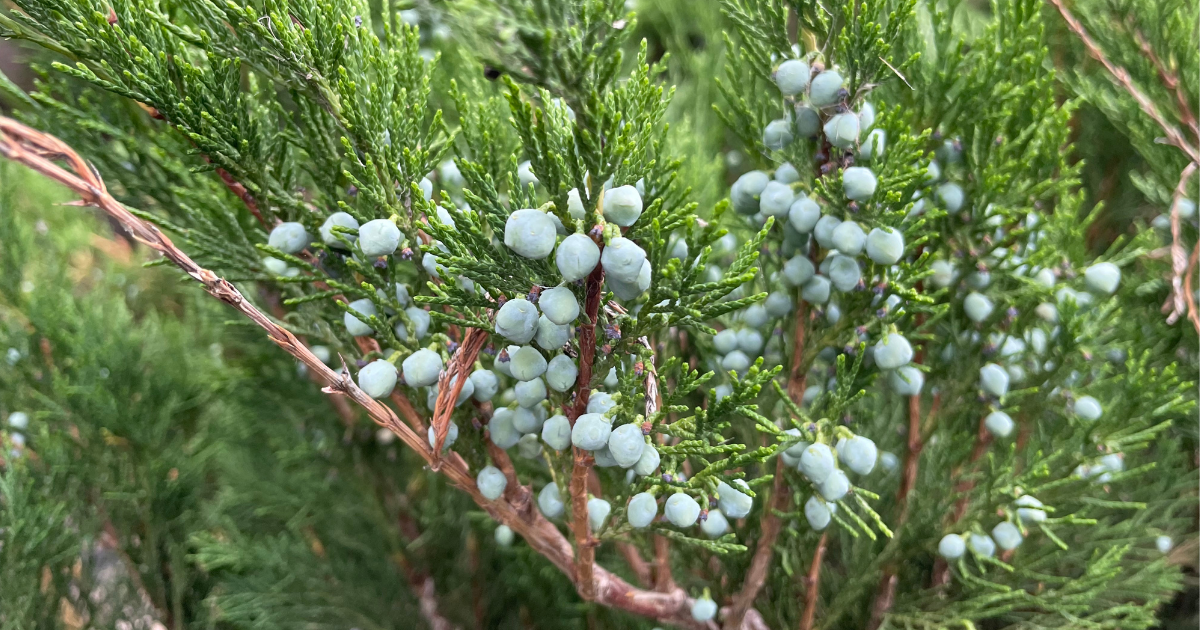 The beautiful blue juniper "berries" on a local Alberta farm.
Juniper berry simple syrup (1/2 cup):
1/2 cup granulated sugar
1/2 cup water
1.5 tablespoons dried juniper berries (but who says you can't try with fresh berries?)
The syrup recipe and cocktail inspiration can be found here.
2. Rose Hip Tea

For more information about preparing rose hip tea check out this recipe.
Winter is a perfect time to make rose hip tea using rose hips foraged from the river valley. The process is very simple – all you need to do is harvest some good-looking rose hips, clean and dry them, and then steep the rose hips using 1/4 cup of rose hips to 1 cup boilingwater and steep for about 15 minutes. Strain out any pulp remaining, and enjoy!
3. DIY Foraged Wreath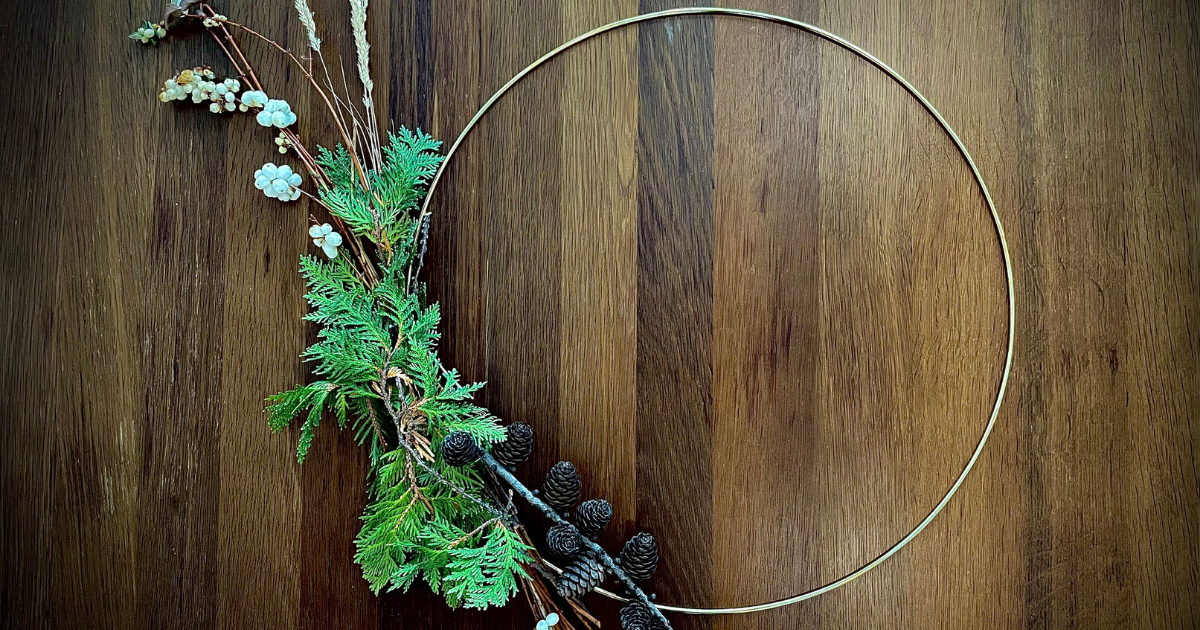 DIY wreath made of snowberry, cedar, tamarack, and carl forester grass.
A great way to celebrate and showcase species around your area is putting together a natural, foraged wreath to hang on your front door. Bonus: the steps are fairly simple and make for a fun DIY project!
Head out for a walk
Forage — depending on where you live the range of local materials may be limited to evergreen foliage, pinecones, and branches of berries
Prepare a hoop or wreath base (you can do this using pliable woody species or simply purchase one)
Prepare greenery by cutting down to workable length

 

Decorate your wreath by tying on the cuttings with something like hemp twine
4. Winter Forest Walk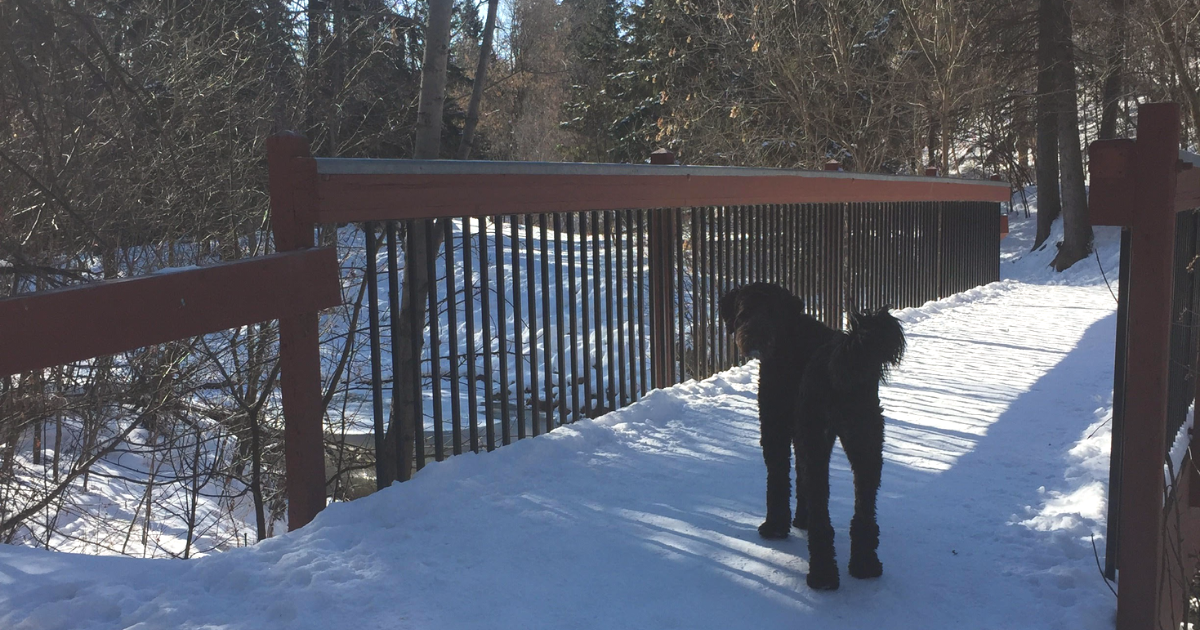 AWES assistant Jock out for a winter stroll.
In the City of Edmonton, we are lucky to have a large and extensive park system with beautiful areas of intact parkland habitat. My favourite winter activity is to head out to Mill Creek Ravine with a furry four-legged friend and enjoy the majesty of the old growth balsam poplar and white spruce. The spruce trees stand out with a brilliant dark green during the stark winter months, dusted with a gentle covering of snow. Getting out for a walk among the frosted trees is a great way to get some exercise and enjoy the fauna and flora of an Alberta winter.
5. Real Christmas Tree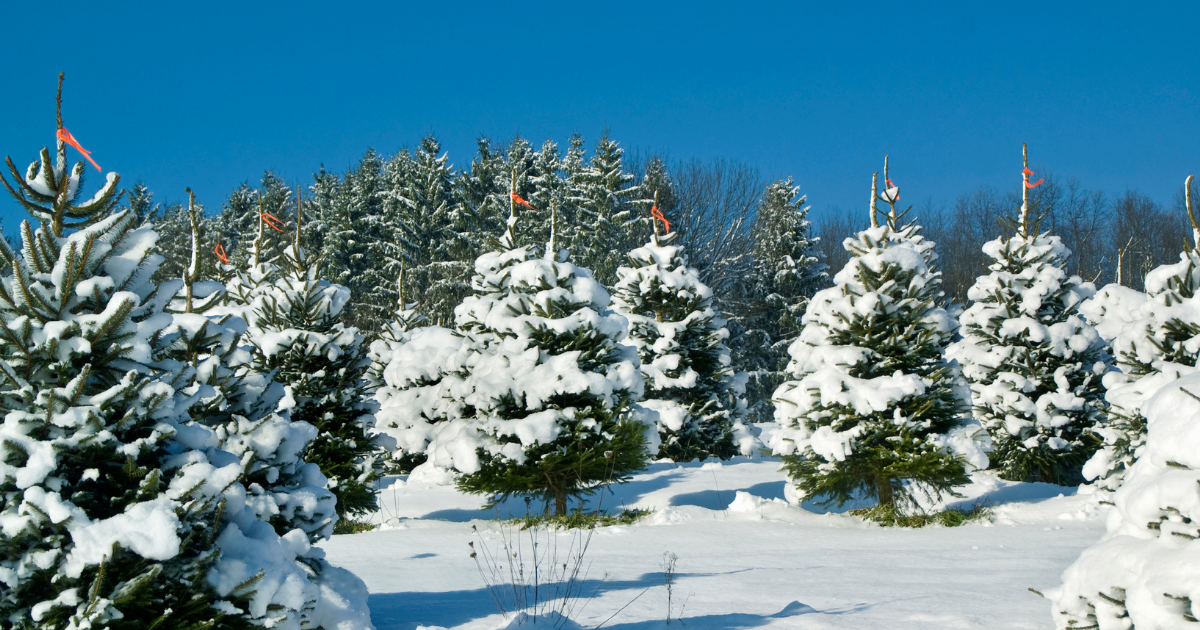 The choices are endless at a Christmas tree farm.
Choosing a real tree rather than an artificial tree can be be a tough choice, especially because it is not widely known that choosing a real tree is actually beneficial for the environment and your community as well! Tree farms can provide habitats, air filtration, and prevent soil erosion. These trees are harvested at the age/height desired, then immediately replaced by future perfect Christmas trees. Don't forget to acquire your free Personal Use Forest Products Permit (PUFPP)!